Welcome to

Harmonic Learning

DISCOVER THE POSITIVE POWER OF HARMONIC LEADERSHIP
A Harmonic Leader creates an environment where every person feels fully valued, fully motivated and fully cared for.
Imagine being in that kind of environment everyday... We all deserve to be.
Harmonic Learning, LLC is a leadership development and coaching firm, founded by Brian Lowell French, author of Harmonic Leadership - Leading wth Inclusive, Mindful Caring.

Visit the Harmonic Leadership Book website to discover how to order your copy.
The Book
Your Guide to Learning

All of our learning programs utilize the Harmonic Leadership book for the content. It is your master guide to becoming an Inclusive, Mindful Caring leader.

You can acquire the book by visiting HarmonicLeadership.net where it will link you to our Bookshop site to purchase the book. You can also find the book on any major retailer, if that is your preference.

The first step in your learning journey is to read the book fully, while also completing all of the dozens of assessments, activities, and self-reflection worksheets.

If you then choose to become a Certified Harmonic Leader, the book will become your guide for completing the certification program.

For those who seek the higher levels of Facilitator / Coach certification, the book will continue to be your primary learning resource.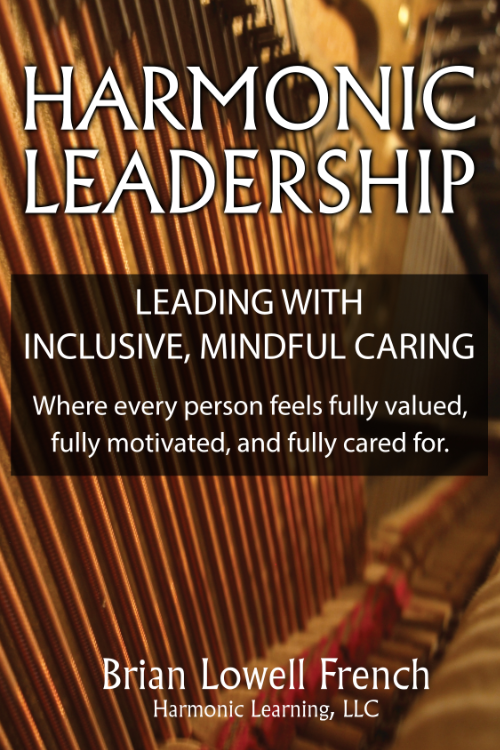 DISCOVER
GREATNESS
Find the leadership greatness inside of you to become the best leader that you can be.
ENHANCE
SELF-AWARENESS
Dig deep into discovering what makes you tick and why you do the things you do as a leader.
DEVELOP
NEW CAPABILITIES
Learn new tools and techniques for leading self and others to increase effectiveness
.
FIND YOUR PURPOSE
Identify your leadership purpose to motivate, inspire and drive individual and team success.
Consider the greatest leader you ever worked with, and think of what made them so great.
Consider the positive effects that they had on you, on others, and on the organization.

You can become this person for others by becoming a Harmonic Leader.
LEARNING PROGRAMS FOR ORGANIZATIONS
IMAGINE THE STRENGTH OF AN ORGANIZATION FILLED WITH THE POSITIVE POWER OF HARMONIC LEADERSHIP
We provide training, coaching, team-strengthening and mindfulness based programs for companies and organizations to develop inclusive, mindful caring leaders who create a positive working environment, leading to greater purpose, focus, resiliency, and success.
This provides your leaders with the path to reaching their positive potential.
Contact us to see how we can partner.
Quotes from Coaching Program Participants
We thank our coaching participants for allowing us to share their feedback to illustrate the positive impact of our executive coaching programs.
HR Vice President
Financial Industry
"Is there a 100 on this rating scale. Brian "gets me" and is so good at drawing me out and helping me see myself through the eyes of others. I have grown immensely through his coaching."
Divisional VP of Sales
Pharmaceutical Industry
"This was the best and most impactful professional coaching experience I have participated in. I would highly recommend Brian and his approach to others."
Regional Medical Director
Veterinary Medicine Industry

"I entered into this engagement with the goal of increasing my self awareness and identifying blind spots that may derail my continued development and success. Brian was instrumental in helping me achieve these goals."
Operations VP
Financial Industry
"I entered into this engagement with the goal of increasing my self awareness and identifying blind spots that may derail my continued development and success. Brian was instrumental in helping me achieve these goals."
"The coaching 1:1 I found to be immensely valuable. Brian allowed me to deviate from the agenda when I needed, adjusted the approach to prioritize parts of the plan that would help me now instead of being rigid in approach to maximize the value. Being able to bounce ideas off my coach and he always bring it back to the plan and help me to focus on the problem at hand proved powerful for me. Having the flexibility to emphasize the right lessons at the right time as I had real world experience to draw on further drove the points home. I truly would keep my coach forever."
Chief Financial Officer
Medical Equipment Industry
"I could not have hoped for a better coach than Brian. On a personal level he was able to connect with me and helped me identify several areas of improvement and make plans to ensure success. This engagement brought to the forefront some areas of concern I have had for some time and helped me understand that we are all innately different and that is not necessarily a bad thing. Through my discussions with Brian and the activities we worked on I have gradually gained more confidence that I can become more than I had previously thought."
IT Senior Director
Energy Industry
"It was a terrific and, definitely, timely experience on many levels. I feel I have experienced measurable growth through this process. The exercise gave me an opportunity take a deep introspective look at myself as well as putting together an actionable plan to improve areas of weakness. Truth be told, I typically struggle a bit with personal growth training/coaching as it always seems to rely more on theory than practical application but this time it was different."
Quotes from Leadership Program Participants
We thank our leadership program participants for allowing us to share their feedback to illustrate the positive impact of our Harmonic Leadership programs.
VP of Business Development
Sign Industry

"Everything you knew about leadership, forget… Time to relearn."
Operations Director
Hospitality Industry
"Great class, great interaction with a diverse group of leaders! A ton of experience and talent in the room. What a great opportunity."
VP of Operations
Construction Industry
"Everybody is unique and requires different leadership approaches. Empathy is a huge key to that. I keep my workbook open to the RESOLVE page."
Senior Director
Restaurant Industry
"Patience and Empathy. It taught me that everyone's opinion matters, regardless of what it is."
Sr. Manager
Restaurant Industry
"Made me more intentional about looking for ways to mentor, develop and provide teaching moments. Now, even during a short phone call, I ask myself, how can this conversation be used to develop this person."
Director
Facilities Industry
"It truly made me take a step back and re-evaluate myself as a leader, but also those on my team. It helped me learn how I can better adapt to meet their needs and have more productive conversations and better encourage to use their strengths."
Created with